The 2021 Terry J. Cox Poetry Award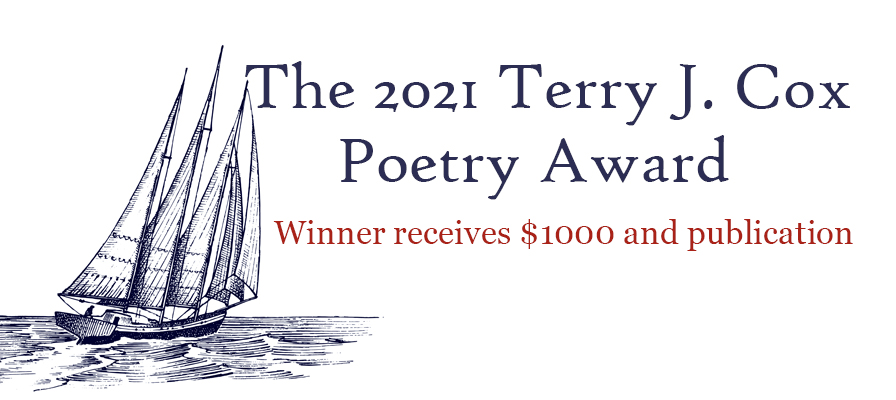 The Terry J. Cox Poetry Prize is awarded to honor a poetry collection, while also honoring the founder's late father who held a lifelong love of poetry.



Accepting submissions from November 15, 2020 – January 31, 2021

Winner Receives: Poetry publication by Regal House Publishing in 2022 in paperback and $1000 honorarium

The editors at Regal House Publishing will select their top five entries as finalists, and our judge, Martha Kalin, will pick the winner on April 30, 2021.

Eligibility:

Entrants must be at least 18 years of age.

Individual poems in the submitted manuscript may have been published previously in magazines, journals, anthologies, chapbooks, or self-published books, but these poems must be submitted as part of an original manuscript and the author must retain copyright of the work.

Translations and collaborative manuscripts are not eligible.

Employees and volunteers of Regal House Publishing, Pact Press, Fitzroy Books or The Regal House Initiative, their partners or spouses, their immediate families, or immediate family of the judge are not eligible.

Manuscript Format:
Minimum of 48 pages, maximum of 100 pages of poetry
At least 11pt. font
The entries will have a blind reading, so please do NOT include name, address, email address, and telephone number anywhere in the body of the manuscript. DO include it in the Submittable cover letter form
Do not send artwork or photographs.
Paginate consecutively and include a table of contents
Attach publications acknowledgments, if any.
Please adhere strictly to contest dates. Neither late nor early manuscripts will be accepted.
Contestants may submit the manuscript elsewhere simultaneously, but must notify Regal House Publishing immediately if a manuscript is accepted by another publisher.
Once submitted, manuscripts cannot be altered. Winner will be given the opportunity to revise before publication.
Contestants may submit more than one manuscript, but a separate entry fee and entry form must accompany each manuscript.